Galaxy Quest - 1999
Galaxy Quest was once a popular "geek" TV show that eventually got cancelled but was so popular among a a cult group that it has spawned 18 annual conventions where fans gather, often in costumes based on the shows, to watch old episodes, meet cast members and actors who played even bit parts on single episodes.
At Galaxy Quest 18, hosted by Guy Fleegman (Sam Rockwell), an actor who played in episodes 81 and died by the first commercial, the fans are seeing a "lost" episode which is part one of a two parter dealing with the Omega 13 device.
As this episode is screening in the main room back stage sits the original cast and crew: Alexander Dane (Alan Rickman), who played half human/half alien Dr. Lazarus and moans about how he was once a great actor on the English stage as the beautiful and buxom Gwen DeMarco who plays communications officer Lt. Tawny Madison (Sigourney Weaver) whose job on the ship was to repeat what the computer said, complains that her TV guide article was all about her bustline and how it fit into her uniform.
Tommy Webber (Daryl Mitchell), the child actor who has since grown up and found no life other than Galaxy Quest conventions remarks about how the commander and star of the show Jason Nesmith (Tim Allen) is more than an hour late. Nesmith finally shows up and gets into the "been there done that" groove asking if Dane has already done his "I was once an actor" thing.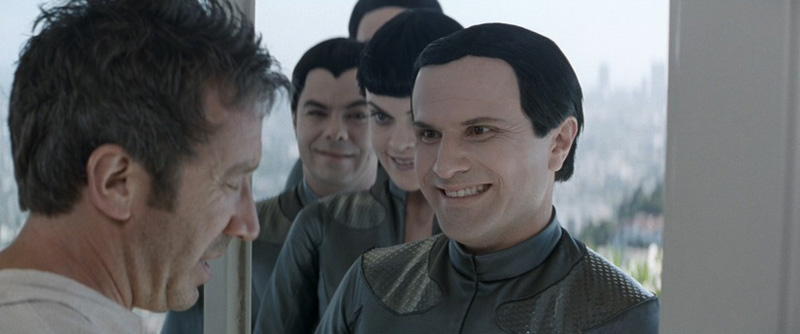 This, plus the fact the Nesmith is about to do a solo gig without the rest of the cast almost has everyone walking out of the dressing room and heading for home, as Jason tries to explain the gig is a couple of kids with cardboard in a garage and is nothing major. Out on the convention floor Guy now starts introducing the crew of Galaxy Quest, who snap into their roles, especially Dane after Nesmith says the magic words to convince him that "The show must go on!"
They go outside to the waiting fans, the spotlights and the roar of the crowds to sit and sign autographs and give the fans a taste of the dream. Gwen happens to smile at Nesmith, basically because Tommy told a hysterically funny and true crack about the fans loving Nesmith almost as much as Nesmith loves himself.
In that brief moment Nesmith see's Gwen and remembers times that once were and hopes for a rekindling of old on the set romance, which Gwen promptly shoots down when fans ask he if she and the commander once had a thing and Gwen replies, as Nesmith comes up behind her. Nope! Gwen is ushered off by officials to do a "look a-like" Tawny Madison and fans in costume photo shoot.
Nesmith tries to follow and is confronted by Mathesar (Enrico Colantoni), an actual alien come to Earth to seek the help of Commander Peter Quincy Taggert, the character played on Galaxy Quest by Nesmith. Nesmith thinks this is the group of kids who are paying him to do an appearce in their garage tomorrow and tells them to keep things hush-hush, finalize details with his agent and bring a limo.
The brushed off alien contingent mutter a bit and go off to do as he asked with Nesmith tries to corner Gwen who brushes him off with a "it was cute before I got to know you" line. Nesmith eventually goes into the men's room and locks himself in a commode where he overhears two non-geeks who are making fun of the whole Galaxy Quest event and participants and calling the stars losers who haven't done anything in acting since the show, especially Nesmith who is bad-mouthed by his co-stars.
Nesmith gets a wake up call and falls totally out of character for the rest of the day. He signs autographs with a "phone it in" mentality, doesn't look at the fans and when confronted by the real hosts of his next day gig turns on them, get's angry and tells them it's just a TV show. Gwen overhears this and later that night talks with fellow co-star Dane about it on the telephone from their respective homes. She expresses concern about Nesmith and Dane just expresses contempt for the whole thing.
Nesmith, climbs into a bottle of booze on ice watching reruns of Galaxy Quest on TV and waking up when Mathesar and his fellow aliens come a knocking at Nesmiths' back door. Nesmith doesn't quite rise to the occasion and more like crawls around in his shirt and undies looking for shoes. Eventually they all get into a limo and head to the gig with Nesmith trying to make a play for the pretty alien girl Laliari (Missi Pyle) who can't speak because her translator device broke.
Nesmith asks for a coke and promptly takes a nap as they explain the situation to him on the way up to the ship, which is a real Galaxy Quest space ship. Once there, the unshaven, groggy and very unkempt Nesmith is taken to the bridge where he confronts the evil bad guy alien Sarris (Robin Sachs) on the Vid screen. Nesmith orders them to fire blue and fire red and fire other stuff. He says that should take care of Sarris and then he asks to be taken back home to Earth.
Teb (Jed Rees) really appreciates that Nesmith has saved the people. Nesmith is shown into a room where he is covered by goop that turns into a plastic shell and then he is shot out into space, landing at home by his swimming pool in a state of shock. He runs, as is, unshaven and unkempt, to the electronics store opening they have been contracted to do and tells his fellow actors about his real adventures in space with the "termites" as he calls them.
Everyone thinks he's drunk and crazy, even after Mathesar and his fellow aliens show up and want him and the crew to come up and negotiate with Sarris. Nesmith tries to convince his fellow actors to come along and help him. Instead they all give Nesmith the brush off and leave, climbing into the same van hostile and critical, except for Fred Kwan (Tony Shalhoub) who plays the Tech Sgt. Chen on the show and said they all should have taken the gig because who knows when Nesmith would offer them a gig again!