U.S. Army Training and Testing Facility, Yuma Flats, New Mexico: Two years ago an American family crossing the desert took a wrong turn and drove deep into a military area known only as Sector 16. By dawn the next day, half the family had been slaughtered. In the following weeks the Army conducted search and destroy missions throughout the area. Recently, for undisclosed reasons, electronic monitoring was ordered installed. It was nearly in place . . .
The film opens with a brutal scene of a restrained woman (Cécile Breccia) going through labor. A prisoner for some time, she's strapped to a bed, allowed to suffer in filth, matted oily hair, unkept toe nails, decaying teeth, and festering sores. She gives birth to a grotesque infant, but it is stillborn; a mutant known as Papa Hades (Michael Bailey Smith) bashes her head in with his fist, killing her.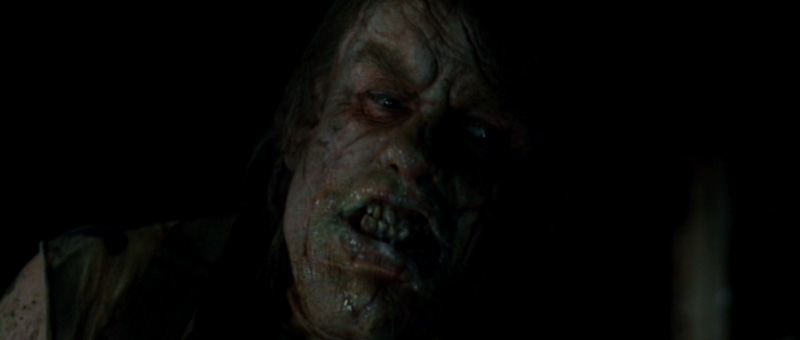 Hades is the current leader of the Hill People, after his mother Karen Sawney Bean passed away due to radiation poisoning. Hades possesses a cunning ruthlessness and leadership skills that allowed the Hill People to survive the purge done by the U.S. Army. With time and isolation, and the Hill People tribe on the verge of dying out, Hades became increasingly more cruel, focusing on raping and torturing passing females. Initially it was for pleasure, but in the long term, for getting them pregnant and giving birth to healthier mutants.
Three scientists are shown working on the electronic surveillance installation and are encountering problems. Each at different locations, they communicate over radio, with Wilson (Jay Acovone) at the computer helm located in their base made up of tents. Wilson picks up what he believes are false readings, signals of other moving objects on the surveillance screen, then suddenly the data feed is interrupted.
He reports it to Han (Archie Kao) who is in an old section filled with mannequins dressed in military uniforms. No one has been there since the fifties. Wilson believes it might be rats chewing the insulation on their power cables. Han goes to investigate the Main Junction. He finds the juncton box and it's fried due to an invading rat. Wilson orders a back up unit, expected to be delivered in an hour or so.
Colonel Redding (Jeff Kober) enters the tent, he's furious that the scientists are wandering the mountains without escorts, and he storms off to find the exploring scientists. The third scientist, Foster (Philip Pavel), is up top the mountain calibrating the infrared sensor. He calls to Wilson on the radio, but he doesn't answer. He tries Han also, no one will answer. We see Han in the Main Junction horribly slaughtered with his guts splayed on the floor.
Determined to go find them, Foster whips around and a mutant known as Hansel (David Reynolds), is standing there eating a snake. Hansel, the third son of Hades, is a large member of the clan with a childlike demeanor, an enormous simpleton. He is totally against what his family is and tries to help normal people when they are in danger. Fascinated with Foster's shoes, Hansel creeps towards him. Foster nervously introduces himself and Hansel speaks, but he is somewhat incoherent. Foster finally understands he's trying to say, run away.
Too late, before Foster even has a chance to react, he spins to see a mutant known as Letch (Jason Oettle), who drives an axe into Foster's skull with a bloody splat. Letch is another violent attacker of the hill people and is one of Hades' children. He has tumor like growths all over his face and body. Despite his large powerful frame, he is agile. Letch is a ruthless killer and goes around wearing looted army attire. Hansel lets out a prolonged loud chilling scream that echoes through the mountains and is heard by Colonel Redding.
Redding calls out to Foster, scanning the hillside and sees nothing. Suddenly, we hear the sound of an object piercing flesh, Redding gasps and looks down to see a metal pipe/spear punctured through his chest from behind, with Letch holding the spear. Letch lifts Redding up in the air and heaves him over the mountain cliff, hitting the rocks below. Letch stands on the edge of the cliff shouting a victory scream. Fade to black.
We cut to an apparent military operation in Kandahar, Afghanistan in which the troops are depicted as not being cohesive as a group and show individual weaknesses. The operation ends when a 'civilian' woman (Fatiha Quatili) approaches the group and reveals multiple grenades under her garment, at this point the operation is revealed to be a training exercise for rookie troops on US soil.
The sergeant, "Sarge" (Flex Alexander), lambastes the troops for their failure then tells them they are going on a mission to bring supplies to scientists working on a surveillance system in a top secret area. By this time many of the troops have their individual characters established, namely that Napoleon (Michael McMillian) is actually anti-war and that "Crank" Medina (Jacob Vargas) is particularly gung-ho and violent.
On arriving at the secret base there is no sign of the scientists. A garbled radio message is received followed by a mirror signal from atop a hill. The sergeant orders a search and rescue mission leaving behind Napoleon as punishment for questioning this order and Amber Johnson (Jessica Stroup) to monitor the radio. As they are climbing, Mickey (Reshad Strik) falls into an old mine shaft, twisting his ankle in the process but is pulled out by the sergeant who orders him to go back to base.
Napoleon and Amber discover a man, one of the missing scientists, trying to escape from the chemical latrine who then dies from mass infection after warning them of danger. Soon after they discover their transport vehicle in flames and their rifles missing.